Thorough Inspections, Comprehensive Reports!

We are your north coast

1-stop shop 

for

all

of your home inspection needs…



Serving Northwest Oregon.
Astoria, Warrenton, Seaside, Cannon Beach, Manzanita, Tillamook, Clatskanie, Ranier, St. Helens, Vernonia, Netarts, Rockaway Beach and all of Clatsop, Columbia, Tillamook, Washington & Multnomah Counties!
"I always feel confident that my buyers are in good hands with Allen. He will always be honest with something that has a serious problem and is important for my buyers to know about, but wouldn't scare them just to cover himself of any possible liability. He really wants the buyers to get their dream home with the knowledge of any repairs or maintenance that's needed and any serious discoveries revealed. ~Sandi Bennett, Coast Realty llc
– S.B., Warrenton OR, February 2019
"Allen arrived early for his appointment to inspect the new home we had made an offer on ….. Allen and his assistant Kevin were both very thorough and detail oriented, they arrived prepared to go to work ….. they walked and videoed the roof, they inspected, made a video of the crawl space and attic checking heat ducts, insulation, wiring and plumbing in places we probably will never go! They operated appliances, checked smoke and CO2 alarms, furnace, water heater, all appliances ….. the list of things they checked is endless and very comprehensive. Was Allen's inspection worth the cost ….. absolutely! Would we hire Allen again if we were to buy another home ….. absolutely! Allen is friendly, polite, knowledgeable, and very, very thorough. Thank you Allen and Kevin ….. you are the best!
– D.M., November 2019
"I would recommend Allen to anyone, he was thorough, well versed in all aspects of home inspection, he explained everything clearly, and was very friendly and helpful. I have bought and sold several houses in my lifetime and I would say that he was the most thorough and competent of any of them. Thank you Allen!!!"
– C.D., December 2018
Reliable and Thorough
You need someone who is on your side with your concerns and priorities in mind throughout the home inspection process. You can count on Checkpoint Home Inspections to systematically perform a thorough visual inspection, checking, testing, and verifying all systems and components within the home for any issues you need to be made aware of.
We would love the opportunity to explain our findings to you on-site and answer any questions you may have. We are here to offer peace of mind and want to be there for you throughout this process from start to finish. Don't hesitate to call us after the inspection or upon receiving your report to ask any additional questions you may have. After all, this is all about you.
Weather Won't Stop Us:
Cold, rain, wind or snow – nothing will deter us. We have methods and equipment to face any challenge the elements may throw at us. Inspections completed on time.

Sewer Scope Service:
Sewer / Septic Line Video Inspections. Septic tank pumping service does not include sewer scoping. Make sure to include yours with a complete home inspection.
Crawlspace Inspections:
Our "Secret" cache of investigative equipment allows us to inspect virtually ALL crawlspaces. Providing full HD videos & pictures to convey to you the conditions of most unseen areas. We have the ability to inspect areas that are to restrictive for most other inspectors. 
Meet Sheldon:
What you don't know, or see, could be damaging. Leaking plumbing pipes and water intrusion can create an atmosphere conducive to mold/ fungal type growths. "Sheldon", our secret investigative agent, can assist to find these leaks and other water entry points. 
Your Comprehensive Home Inspection Report and Create Request / Repair List (CRL)
At Checkpoint Home Inspections, we generate our comprehensive home inspection reports using HomeGauge Software. In most instances you will receive your report electronically within just 24 hours after we have completed your inspection – most are available the same day.. The report contains all of the detailed information you need to make wise decisions about the home, including helpful photos and videos where necessary. Most importantly, each report features an interactive Create Request List (CRL) tool, which will allow you to build a project list for the home directly from the findings listed in the report. The list you build can then be easily shared with your realtor.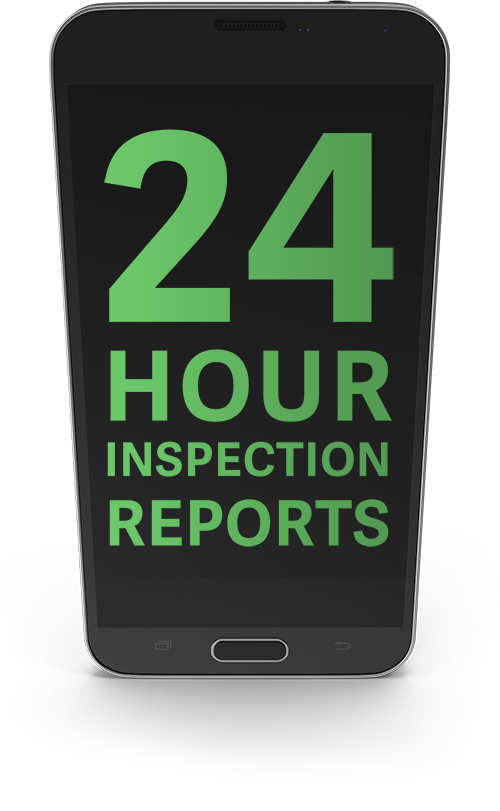 Offering special rates for active military, veterans, first responders, medical service providers, educators and repeat customers. Contact us to learn more.
THANK YOU ALL FOR YOUR SERVICE!